American Beauty's steaks are the star of the show | Food, recipes and entertainment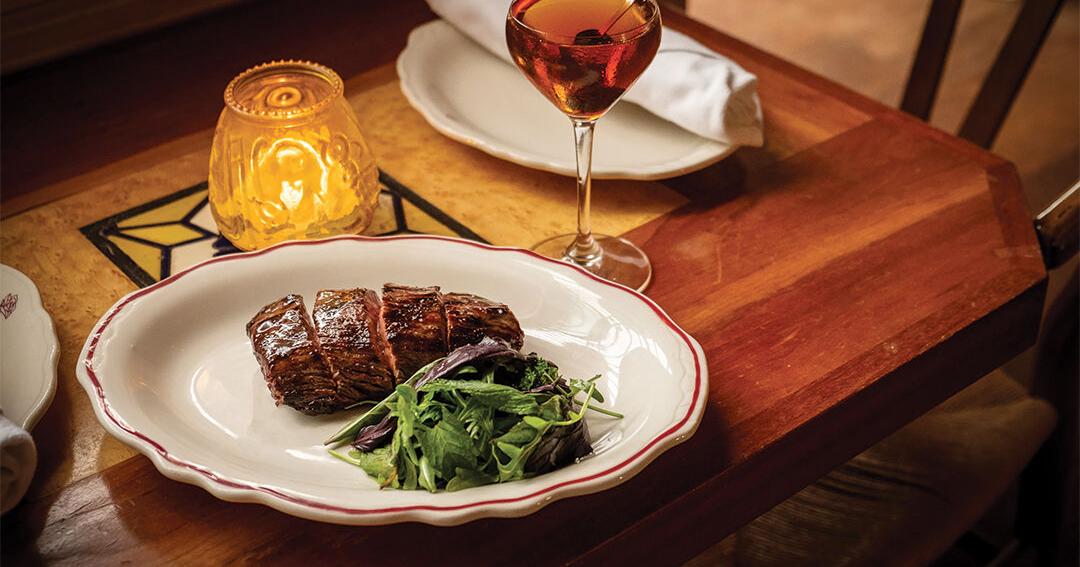 Located on Rose Avenue in Venice, American Beauty is a neighborhood steakhouse that opened in September 2019. The name of the restaurant is poetic with various interpretations that range from a type of rose to a Grateful Dead album. According to Jeff Goodman, CEO of American Gonzo Food Corp., "we want to let our customers decide what this means to them."
Beyond the rustic exterior is a casual yet highly designed space that includes an open kitchen and the restaurant's open-air horseshoe bar.
"We left the exterior of the building and the mosaic intact to maintain a sense of place — it was part of the fabric of Rose Avenue and Venice," Goodman said. "The kitchen is exposed so everyone can soak up the romance of a live log fire. It was also important to us that the horseshoe bar be the social hub of the space, being part from the street and also sheltered from it and encouraging conversations with people on the nearby stool and on the other side of the bar.Our bar is suitable for both having a few drinks and enjoying a full meal. offer a wide range of local and small production spirits, cocktails and craft beers, as well as a wine list with over 200 selections.
The parking lot has been converted into an outdoor dining area and is fully fenced from the Rose hub, filled with 100 tons of gravel and a 20ft center olive tree.
"We built a wooden deck with high tables next to the bar and factory-worked a four-sided cabin that acts as both the heart of the space and the planter for the olive tree," said Goodman.
Led by Chef Elisha Ben-Haim, American Beauty's spring menu offers an assortment of new dishes to try, including a macaroni and cheese platter with extra sharp cheddar and crispy breadcrumbs.
"Steak is the star of the show year-round, but LA's bountiful farmers' markets really guide what Chef Elisha puts on our menu," Goodman said. "Some of the seasonal dishes that are currently featured are our grilled Castroville artichokes, delta asparagus, blistered snow peas, and strawberry shortcake with a cookie recipe that the chef is keeping locked away."
Goodman also shared a local secret that the Win~Dow at American Beauty serves one of the best breakfast burritos in town during its 8-11 a.m. breakfast service every weekend.
"It's made with American Beauty beef brisket and homemade fries, and it's the best thing to eat after catching a few waves or before heading to Venice Beach," he said. "We also have a $3.95 breakfast sandwich with toasted bologna, a $2 coffee, and we'll put an egg on one of our Win~Dow items, like that classic burger smash everyone loves. "
american beauty
425 Rose Avenue, Venice
310-412-0075