Bringing the store to LA Doors | Food, recipes and entertainment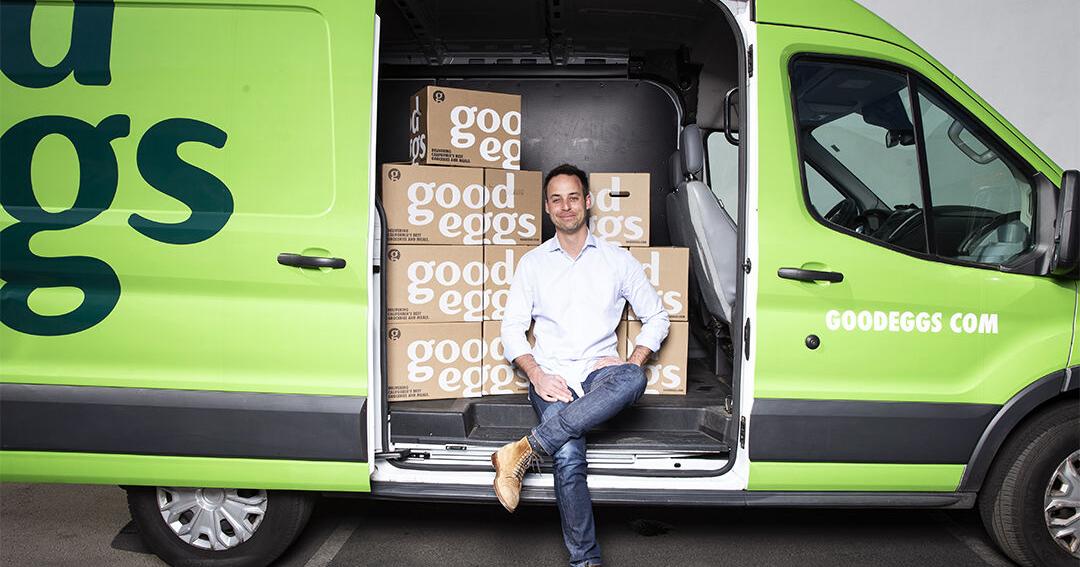 Good Egg is an online marketplace that offers high-end grocery products
When the foundations of Good Eggs were laid over a decade ago, the idea on which the organic grocery delivery service was built was groundbreaking and revolutionary, according to current CEO Bentley Hall.
An idea he feels few people agreed with just half a decade ago, he now feels the movement towards online grocery stores, and quality ones, is validated by recent consumer shifts.
"It really started back then with a big thesis, and the thesis was that groceries were going online and groceries were going to good food – and Good Eggs would be at the intersection of those two big ends. and we would work our way up by having a really good, well-stocked premium product and using technology to achieve that," explained Hall, who has been with the company for six years.
Founded in 2011, the online marketplace was built in the Bay Area, Hall said, because "we really wanted to put down deep roots in one region; really perfect our model; continue to have exceptional quality food; very, very good works that offer convenience without the compromise that comes with some other systems.
After proving its concept in the San Francisco market, Good Eggs is finally branching out into other markets with its recent expansion into Los Angeles.
"It left us with a service that customers really love and keep coming back to, a business model that works — and that was a very, very short summary of the first chapter," Hall said.
"But LA is the first market we're entering after this chapter, and we're doing it because we feel like we have a base and a great, great, great fit with our consumers and great service — and now we' re in this phase of accelerating growth through thoughtful expansion.
Solve a customer's week, locally
Good Eggs offers an extensive online marketplace and flexible seven-day-a-week delivery, including same-day options. No subscription is required and orders can be placed via the website or the iOS/Android app.
The company's offerings range from individual products, dairy, bakery, pantry, meat and fish, as you would see in a grocery store, to kits that provide customers with everything they need. need for a complete meal.
Also on the brand's digital shelves, so to speak, are a number of prepared options, ranging from frozen pizzas to easy-to-manage salads and soups.
Additionally, the Good Eggs catalog extends to alcoholic beverages, such as beer, wine, and spirits, as well as a range of non-alcoholic options, such as coffee, tea, and soda.
Plus, convenience-seeking customers can remotely order vitamins and supplements; skin care items; bath and body products; as well as cleaning, laundry and toiletries products – and more.
"We're one of the only companies to combine great groceries with absurdly fresh produce; meal kits; seasonal ready meals; and selected liquor, wine and spirits; and flowers," Hall said. "So this idea of ​​solving a full client's week is actually unique in this space.
"But what makes it more unique is that we do all of these things, but we still source 70%, 80% directly from local producers – and to put that in context, the average grocery store is less than 1%. … I care a lot about how we source it and why it's good, but just for a customer it just offers a much fresher product," he added.
More than caring about the growers, Good Eggs focuses on people, by providing good jobs, living wages and strong customer service, and the planet, by practicing sustainability initiatives, such as reusable packaging, recyclable or compostable. The Good Eggs team will even pick up and handle leftover packaging for customers.
"We have great people who care about getting those groceries delivered to your doorstep, and the combination of that that we talk about internally is quality without a doubt and convenience without compromise," Hall added.
This convenience is enhanced by the variety offered in the Good Eggs catalog.
"There are meal kits, there are meals, there are groceries, there is alcohol delivery, there are all these little subgroups. I think a lot of companies consider them independent, but if I consider this a normal human being and a consumer myself who loves food, I want to know how to stock my fridge and my pantry or cupboards, and I want to know what we're going to eat for dinner, breakfast and lunch, those meals, and I want to get some inspiration on that," Hall said. "I don't want to go to 12 different places. I want to have a single destination where there is a third level to complete that is sufficiently but organized enough to meet our needs. I think it's pretty standard.
"I also think that people are not the same every day. One night you might want to cook for three hours; one night you can't even heat a pan. And I think the right people who really understand food and the right retailers should give people the choice of what week or night they feel for that customer.
A force for change
The food system is broken – says Hall – with modern supermarkets prioritizing profitability over quality. Good Eggs aims for the opposite.
"Just to start, the idea that a grocery store should have 60,000 or 70,000 items and miles of aisles is a completely new phenomenon that started in the 60s or 70s. For example, why do you need choose from three aisles of sliced ​​bread? I have no idea," he said, noting a push for "shelf-stable processed foods."
"And even for the small fraction that's not shelf stable processed food, which I wonder if it really is food, the 'fresh' comes from an average distance of 2,500 miles, usually picked 14, 15 days before it gets to a grocery store shelf, and they only prioritize that consistency and low cost. They don't care about taste, they don't care about quality, they don't care about real freshness, and obviously we have a different view on these things.
"And for me, I fundamentally believe that good food is the most powerful force for change. And it's one of the most important things we consume every day and every week, and our choices make a big difference.
Hall, who lived in London for two years before joining Good Eggs, saw much greater demand for online groceries there – and in other countries – than in the United States at the time. America was lagging behind, he said.
Now, however, that is changing. And while Good Eggs isn't the only alternative to the traditional grocery store model that's been gaining popularity in recent years, it aims to stand out from the competition.
"I think we used to joke that no one wakes up in the morning and asks if they can break up with their groceries and what should they do that's different from before, but really, I think the combination of COVID, Amazon buying Whole Foods, DoorDash and Uber Eats and all those players" has led to a consumer shift to online delivery, he speculated.
"I've never seen a bigger change in behavior in my life, and I think it's just beginning," he added. "I don't think it's done."
One step after another
In its first phase, before coming to Los Angeles, the company focused on gradually strengthening its foundations, expanding its inventory from hundreds of items to thousands, while improving its behind-the-scenes operations.
"We have changed a lot. Five, six years ago, we were really a casual store for most people. Think of it as an online-only farmers' market," Hall said, noting that the focus on quality and local sourcing, on the other hand, hasn't changed.
And while continued growth is Good Eggs' goal following its expansion into Los Angeles, Hall stressed that the company remains primarily focused on food. Other plans are also underway, such as continuing to work with different delivery speeds.
"We want to get it right," Hall said of the gradual expansion into Southern California and the possibility of future markets. "So we want to do that and do it right and focus on that, and we'll also continue to grow in the five to 10 major West Coast markets.
"We like markets where there is a dense urban core and a good suburban area and enough good suppliers and good customers. …
"We will continue to expand on the West Coast, and once we have real scale on the West Coast, we will of course look across the country and then beyond, but one thing at a time."
good eggs