Culinary treasure | Food, recipes and entertainment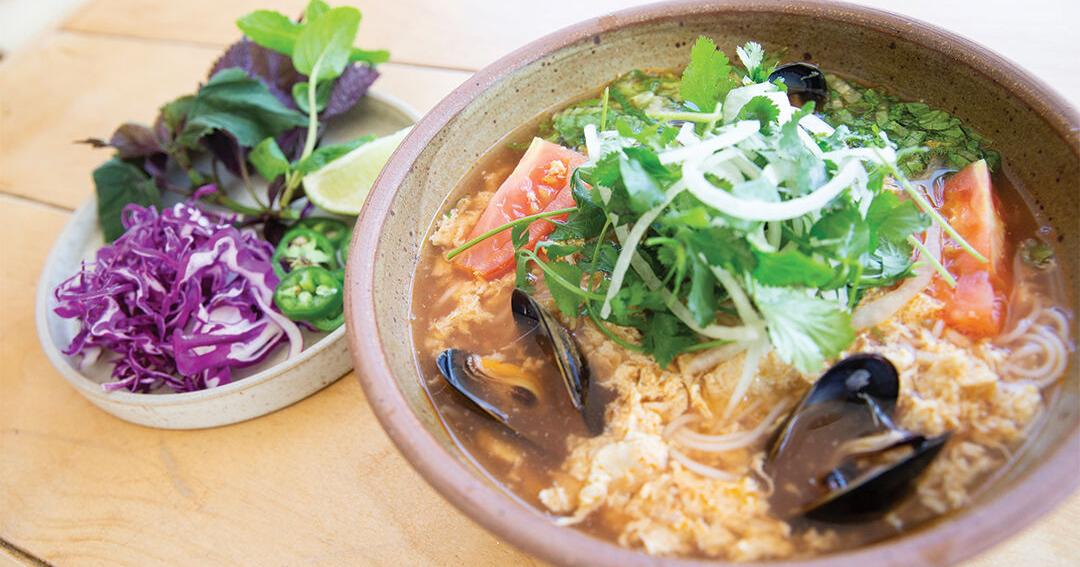 Vietnamese Blossom brings classic pho to Abbot Kinney
"We've been open for five weeks today," Duc Pham said of his new Vietnamese restaurant Blossom on Abbot Kinney Boulevard.
Pham has just received the two heaters he ordered for the outdoor patio, which arrived in time to warm up outdoor diners for the windy weekend ahead.
"We move with space," he said. "He tells us what he needs daily."
Venice is Pham's fifth Blossom location – Downtown Los Angeles' first noodle shop launched on Main Street 17 years ago. The Ocean Park Boulevard restaurant in Santa Monica opened its doors five years ago. His Silver Lake spot, which opened in 2006, closed three years ago due to the building's rapidly rising rent, and the Atwater Village restaurant popped up just over a year ago. 'a year.
"I've been doing this for 17 years," Pham said. "One thing that remains true is that each location is in a different area, so we can't expect the same thing. There are always new things, different nuances and complexities for space. In those deep pockets, there are big explosions to be had that you may have missed and overlooked, so it takes time.
Pham exuded pure joy as he talked about his new venture. He had nothing but praise for Michael Sant, owner and architect of the Abbot Kinney Building.
"I love this space, I've never walked into such a perfect space," Pham said. "Looking out it's all glass, so much natural light."
Pham was born in Ca Mau, on the southwest coast of Saigon, a city renowned for seafood. As far back as he can remember, he enjoyed entertaining and finding new places to eat. If you are his friend, you can expect him to sit you down while he starts ordering food.
"I knew exactly that when you took a bite or a sip, your eyes would light up and go wide, and that made me so happy," Pham said. "There's something new in there."
Pham studied in Oxford, England, which he says changed his view of the world. After school, he sat for a few years thinking about what to do. He wondered, "What do you know? Then, one summer in July, the idea came to him: he would open a restaurant.
Five Blossoms later and Pham has succeeded by sticking to the (Vietnamese) basics: pho.
"I'm so into this," he said. "People say that pho is something very simple, but in reality it is something that has nuances and complexities that need to be cared for in a very smooth and gentle way. The broth, in its clarity and its movement,
it's such romance in broth making. It's a gem of a movement for me to do it right – and better all the time. I always stick to the soup. We're not jumping on fusion or what's hot right now. I think I'm pretty straight forward in this, the basics are perfected and refined daily.
Pham also reads the cookbooks and magazines of celebrity chefs and travels the world for inspiration.
"What does Thomas Keller say about cooking broth? said Pham. "Broth is the base of all good sauces. I read what they discovered and learned. What is their approach to stockpiling? I would try and adapt.
Pham keeps its formula simple. All noodle dishes are the same at each location, and the Downtown and Abbot Kinney locations serve rice dishes for dinner only. Luckily, LA food lovers know the name Blossom. Alongside the beachfront newcomers, existing Blossom customers in downtown and Santa Monica have already visited the Venice location.
"We got a lot of local love," Pham said. "We feel quite at home. I love Abbot Kinney's drive and energy. We have never been on a street with so much foot traffic. It's sort of an extension of what we do in Santa Monica.
Pham also plans to introduce some culinary surprises soon.
"I eat everywhere – LA, San Francisco, Paris," he said. "I want to add dishes that are surprises, that have nothing to do with Vietnamese. How I love cooked branzino. I want to be able to do it because LA is a cultural melting pot.
On a world famous street that is home to popular eateries such as Gjelina, The Butcher's Daughter and Felix Trattoria, it would be natural to assume that one might feel the pressure to follow the Kinneys. Not Pham.
"I know LA's culinary landscape very well," he said. "What we do is different. After 17 years, it feels like something new. I'm not tired of it. I'm going to eat at various places in LA. I keep myself informed of what is happening. It's what keeps me going, it's my path. I jump out of bed. I always run to my job. Until this is over, I'm still very excited to be here and blessed to be able to do this.
Vietnamese flower
1121 Abbot Kinney Boulevard, Venice
310-310-2332