Make eggs the main course with a spinach soufflé | Food/Recipes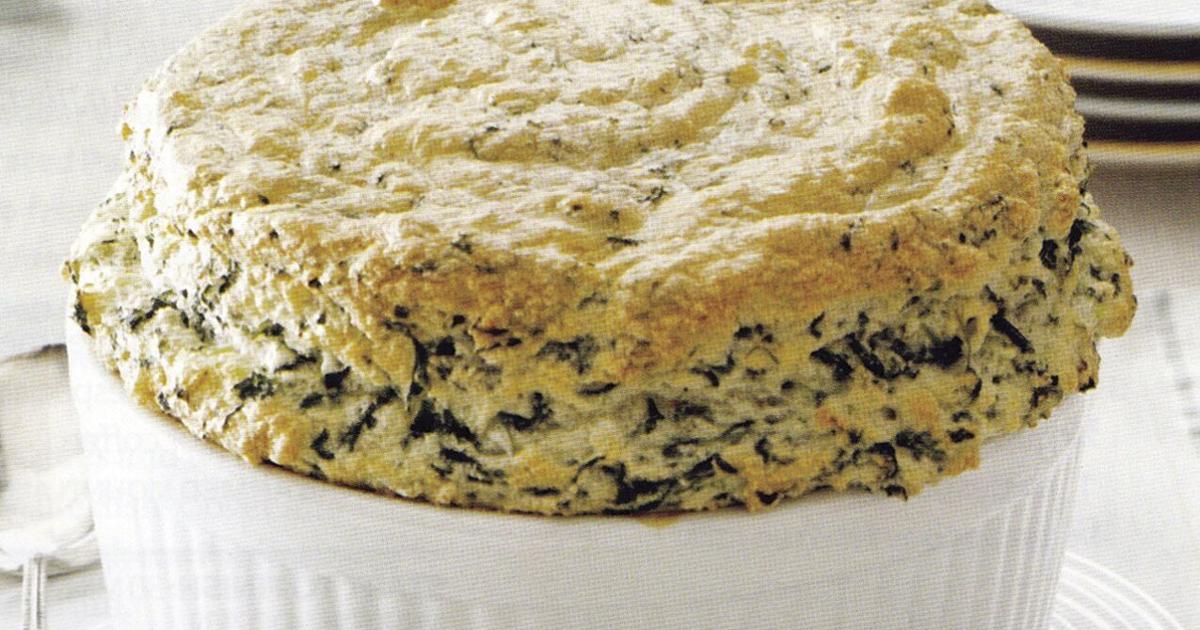 On days when home cooks scour cupboards and the fridge for cooking inspiration, they need look no further than the egg carton. Often relegated to breakfast time, eggs can be the main ingredient or star of meals at any time of the day. In fact, they are a common component of quiches, frittatas, and soufflés.
People may have mixed feelings about eggs, as the nutritional debate surrounding eggs seems to be constantly evolving. Eggs were once thought to be avoided due to cholesterol concerns. But many experts now say eggs can be part of a balanced diet.
This recipe for "Spinach Pantry Soufflé" from "Taste of Home Healthy Cooking Cookbook" (RDA Enthusiast Brands, LLC) by the editors of Taste of Home contains egg whites and only two egg yolks in the recipe. Additional low-fat ingredients help make the end product something everyone can enjoy.
6 egg whites
2 tablespoons grated parmesan
1 can (10¾ ounces) reduced fat and reduced sodium condensed cream of mushroom soup, undiluted
1 cup (4 ounces) shredded low-fat Mexican cheese blend
1 teaspoon ground mustard
1 package (10 ounces) frozen chopped spinach, thawed and drained
2 beaten egg yolks
1. Let the egg whites sit at room temperature for 30 minutes. Coat a 2-quart soufflé dish with cooking spray and sprinkle lightly with Parmesan cheese; put aside.
2. In a small saucepan, combine soup, cheese blend and mustard; cook and stir over medium heat for 5 minutes or until cheese is melted. Transfer to a large bowl; stir in spinach. Stir a small amount of soup mix into egg yolks; return everything to the bowl, stirring constantly.
3. In a small bowl with clean beaters, beat egg whites until stiff peaks form. Using a spatula, fold a quarter of the egg whites into the spinach mixture until no white streaks remain. Stir in remaining egg whites until combined. Transfer to the prepared dish.
4. Bake at 375 F for 30-35 minutes or until top is puffed and center seems set. Serve immediately.