Meet the Chef | Food, recipes and entertainment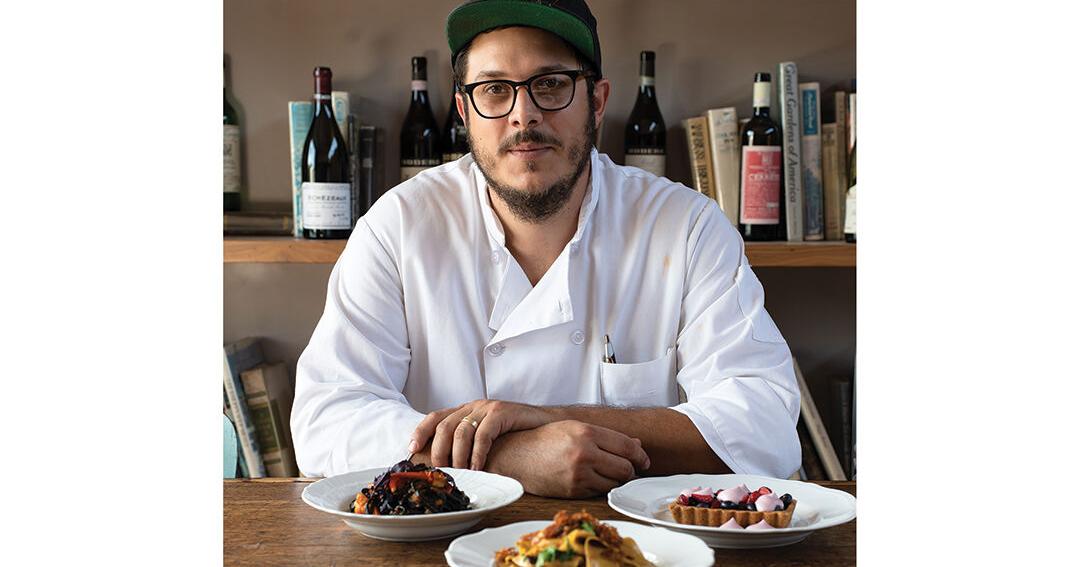 Learn more about The Tasting Kitchen Executive Chef, Travis Passerotti
Located on Abbot Kinney in Venice, The Tasting Kitchen is a contemporary Italian restaurant designed around a central olive tree at the entrance with a New American farmhouse heritage at the table. Their menu changes regularly based on fresh seasonal produce and offers an optional tasting format as a guided dining experience. Dishes include handmade pastas, house charcuterie and produce from Westside Farmers' Markets, and neo-classical cuisine is amplified by a specially curated wine portfolio and celebrated cocktail program.
Executive Chef Travis Passerotti leads The Tasting Kitchen's award-winning food program with his passion for sustainably sourced ingredients and in-depth knowledge of local food communities. Raised in the Pacific Northwest, he grew up exploring farmers markets with his father, who was also a chef and restaurateur. He was also influenced by his mother's love of culinary heritage and hospitality.
Passerotti honed his culinary skills by studying under classically trained European chefs, including Chef Bollag (Bruno's Chef Kitchen) and Chef Landsberg (Inn at The Seventh Ray, King Estate Winery). He worked with Chef Landsberg at King Estate Winery, leading the charcuterie program before moving to Los Angeles in 2013. Passerotti is inspired by contemporary French Revival and American cuisines, the American local food movement and the ideology of the farm, and every dish he creates reflects provenance. of its ingredients while emphasizing light and bright Mediterranean European flavor profiles that complement Southern California flavors.
We chatted with Passerotti, who shared what sparked his initial interest in the culinary arts, the signature dish he's best known for, the kitchen tool he can't live without and more.
What got you interested in cooking?
It all started when I was a freshman in high school and over the summer I decided that I should also get lunch money during the non-school months, to which my dad replied, "Why don't you find a job?" At the time, he was running a well-known restaurant in Eugene, Oregon that had just opened a new concept, and at the end of the week he helped me get my handler's certificate and a job. of dishwasher. By then I had been running around restaurants for a while and was wildly excited to be part of the kitchen.
How did you become a cook?
Lots of hard work, missed family and social events, and a strong commitment to learning. Once I really got into the kitchen in my early twenties, I knew being a chef was my end. Becoming a chef is a difficult time to pin down; there are so many things that go into it. For me, one of the defining characteristics is how much you are able to teach people who cook for you. Before becoming an executive chef, there were days when I spent my time showing people how to perform recipes or answering questions about products, and at those times it was the first time I had the impression of having deserved the title of leader.
The most important thing you learned in cooking school?
When I was considering culinary schools, I was already working as a line cook, and I knew there was merit in going to a culinary program, but at the time, I was more interested in cooking. I have worked for several trained chefs in Europe and practiced the apprentice/journeyman approach to learning the culinary arts. I have always learned more effectively by watching and doing than in class.
What's the first dish you learned to make really well?
I'll have to go in broad strokes for this one; not a dish in itself but a singular food: the egg. I worked with an old school line cook, like the ones you can read about in old Bourdain books. His name was Rivers and he could be a mean sob sometimes, but this man taught me how to cook eggs.
The signature dish you are known for?
It's always difficult; I love cooking with wild mushrooms. I can personally guarantee that when we cook with wild mushrooms here, they are properly respected. I make a Basque-inspired Funghi Misti every winter with Pedro Ximenez sherry that I love deeply; it tends to appear on the menu just when the chanterelles are in full swing.
Favorite ingredient for cooking and why?
Whatever vegetable or fruit is absolutely the freshest at the moment. We live in such an amazing place for fresh food, it has changed the way I cook irreversibly. That being said, I can't wait to get my hands on some corn!
Kitchen tool you can't live without?
Apart from a nice knife? A nice spoon goes a long way. I like to build relationships with my tools and I can say that the bond between a chef and his spoons is hard to break. I'll tear up the kitchen looking for one of my spoons when she disappears.
Who do you admire in the culinary world?
Who do I not admire is the real question. I love grandmothers and grandfathers around the world who bring forgotten kitchens to life; fishermen, farmers, ranchers and all the people who work hard to grow and raise the good ingredients we cook with; every young cook who breaks down boundaries and changes the rules; and above all, all our spouses who put up with our terrible schedules and support us anyway.
What do you like about being a chef?
The ability to connect with strangers, friends and family over a common experience or memory related to food and meals. And the opportunity to teach and learn from other cooks.
The tasting kitchen
1633 Abbot Kinney Boulevard, Venice
310-392-6644