Retiree Cooks Photo-Worthy Meals Every Day | cook of the week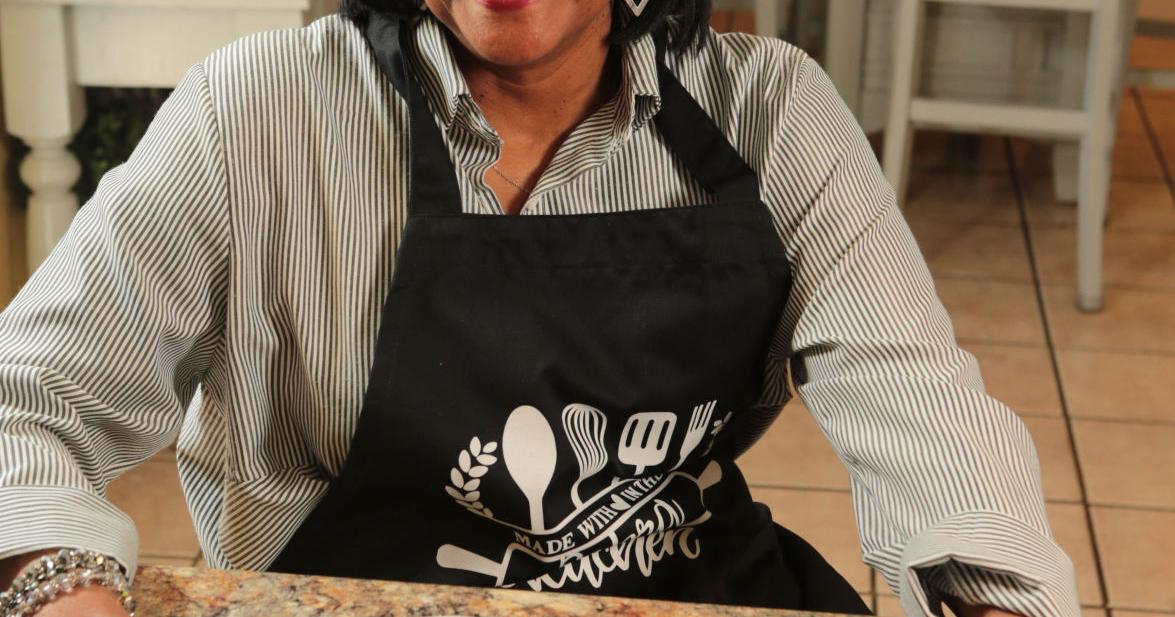 TUPELO — Debra Carouthers cooks a big meal just about every day, and she's got the photos to prove it.
"I take pictures of my food every day and post them on Facebook," said Carouthers, who lives in the Palmetto community. "People will see them and then ask if they can come and get a plate."
She probably won't say no.
"When I was growing up, my mom fed the neighborhood," Carouthers, 64, said. "I guess that's where I got it. During the pandemic, I've been fixing plates for old people in the neighborhood. I've been helping people. You get your blessings that way.
Carouthers' first name is Debra, but everyone – family, friends, neighbors, coworkers – calls her "Peggy Sue."
"It started when I was 3," she said. "My uncle left for service, and when he came back he started calling me Peggy Sue. The name stuck."
Carouthers' husband, Henry, is better known as "Tweety" to family and friends.
"I know, we're a real mess," she said.
Carouthers is the fourth of eight children born to Ola Mae and JW Gillard. She was born and raised in Lee County and graduated from Tupelo High School in 1976. She worked in banking for 38 years before retiring in 2016. She and Henry have two children and four grandchildren.
Carouthers said cooking was one of her favorite things she and her mother did together.
"I've always loved cooking," she said. "When we were little, we made things like cookies and tea cakes. My mother let me start cooking meals when I was about 13. All the boys are wonderful cooks, and one sister knew cooking. One sister was more interested in fashion, and my younger sister was not interested at all."
Carouthers prepares a big breakfast and a big lunch every day for her husband. They don't eat evening meals because he works evenings at Super Sagless.
Breakfast may consist of bacon, eggs and biscuits; sausages, cookies and rice; salmon patties with biscuits, rice and eggs; or chicken livers with onions, biscuits and gravy, and rice.
Lunch could be fried chicken with peas, corn, okra, and sliced ​​tomatoes; or roast beef, mashed potatoes, greens and cornbread; or chicken and meatballs, peas and cornbread.
Sometimes for lunch she cooks a Thanksgiving-style dinner with chicken and dressing, macaroni and cheese, sweet potatoes, cranberry sauce, and rolls.
"People ask me why I'm not opening a restaurant," Carouthers said. "I say, 'Girl, I don't have time for this.' I love to cook, but I don't want to do that. I still like going out to eat. It's a real treat for me because I'm at home in the kitchen all the time.
DO YOU KNOW A GOOD COOK? Send your entries to Ginna Parsons, Cook of the Week, PO Box 909, Tupelo, MS 38802. Or you can call (662) 678-1581 or email them to [email protected]
CREAM OF CHICKEN SOUP
Pepper, Lemon Pepper, Nature's Seasons
1 can of cream of mushroom soup
1 can English peas, drained (optional)
1 to 2 cups grated mild cheddar cheese (optional)
Boil chicken in water with butter and seasonings. Cook for 1 hour or until the chicken is cooked. Leave to cool, then cut the chicken into cubes.
Return the chicken broth to a boil. Add egg noodles, onion and celery and cook until noodles are tender.
Combine cream of chicken soup, cream of mushroom soup, cubed chicken and English peas, if using. Add to egg noodle mixture and cook over low heat for 25-30 minutes. Serve in the pot or use in a casserole.
For a casserole, pour the mixture into a greased baking dish. Sprinkle with cheese, cover with foil and bake at 350 degrees for 15-30 minutes.
CAKES WITH CHOCOLATE CHIPS
1 1/2 cup self-rising flour
8 ounces semi-sweet chocolate chips
Cream together the butter, vanilla and sugars. Add the beaten egg and beat well.
Sift together the flour and baking soda. Add to creamed mixture and mix well. Stir in chocolate chips and nuts.
Drop the dough by a teaspoon onto a greased cookie sheet. Bake at 375 degrees for about 12 minutes. Makes 5 dozen.
THICK FRESH CREAM CAKE
1 teaspoon vanilla extract*
Sift the flour and measure; remix twice with baking soda; put aside.
Cream the butter and add the sugar slowly, beating constantly to cream well. Add the eggs, one at a time, beating after each addition. Stir in sour cream. Add flour mixture 1/2 cup at a time, beating well. Stir in the vanilla and roll out the batter into a well-greased and floured 10-inch tube pan. Place cake in cold oven and bake at 325 degrees for 1 1/2 hours or until cake is done.
Place pan on wire rack to cool for 5 minutes. Loosen the cake around the edges of the pan and the edge of the tube with the dull side of a knife. Press towards pan rather than cake; this protects the crust. Invert the cake onto a wire rack to cool completely.
*Note: 1 tsp lemon extract or 1/2 tsp almond flavor can be used in place of vanilla.
FRESH APPLE CAKE
2 1/2 cups all-purpose flour
1 teaspoon vanilla extract
1 cup chopped pecans mixed with a little flour
3 cups peeled and chopped apples
Beat oil and sugar on low speed until creamy; add the eggs. Sift together flour, salt, baking soda and baking powder; add to egg mixture. Add vanilla and beat until smooth. Stir in nuts and apples. Pour the batter into a greased and floured tube pan and bake at 350 degrees for 55-60 minutes. Let cool before unmolding.
CHICKEN SALAD
2 cups diced cooked chicken
1/4 cup chopped sweet pickle
2 hard-boiled eggs, peeled and chopped
In a bowl, combine the chicken, celery, pickles and eggs. Season with salt and pepper. Stir the mayonnaise into the mixture. Cool well before serving. Makes 3 cups.
EASY CORN BREAD
1 tablespoon vegetable oil
3/4 cup self-rising cornmeal
1 tablespoon self-rising flour
Heat the oven to 425 degrees. Put the oil in a black cast iron skillet and heat in the oven, about 7 minutes. Combine cornmeal, flour and sugar. Add milk and egg. Immediately pour or pour the batter into a hot skillet and bake for 20-25 minutes. The cornbread should fall easily from the pan after baking.
PEANUT BUTTER COOKIES
Cream together the butter, vanilla and sugars. Add the eggs and beat well. Stir in peanut butter. Sift together the flour, salt and baking soda and add to the creamed mixture.
Shape the dough into small balls. Place on a greased cookie sheet and press down with the tines of a fork. Bake at 375 degrees for about 10 minutes. Makes about 5 dozen.
CARAMEL CAKE
3 cups all-purpose or cake flour
3 teaspoons baking powder
4 egg whites, beaten until stiff
For the cake, cream the butter and sugar together until light and fluffy. Add the egg yolks, one at a time, beating well after each addition. Add the vanilla.
Sift together the flour, salt and baking powder and add to the creamed mixture, alternating with the milk. Fold the beaten egg whites into the batter.
Divide batter among 3 greased and floured 8-inch cake pans. Bake at 350 degrees for about 30 minutes. Let cool.
For the glaze, combine 1/2 cup sugar in a black cast iron skillet and cook over low heat until browned and caramelized.
Meanwhile, in a saucepan, cook the remaining 2 1/2 cups sugar and milk over medium heat until soft balls form. When it reaches 235 degrees, add the caramelized sugar. Turn off the heat and add the butter to the mixture. Cool a little, then add the vanilla. Beat until icing consistency.
Spread frosting between layers and over top and sides of cake.