Undergraduate Student Congress Recommends Preservation of Bedlam After SEC Move | New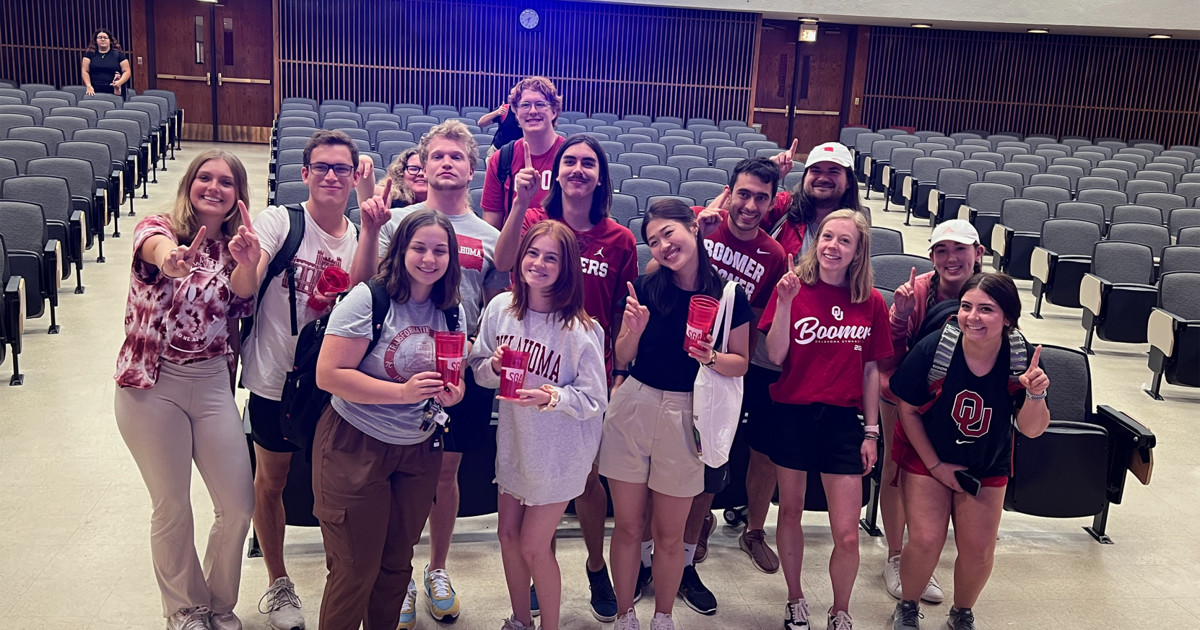 The Undergraduate Congress passed five bills aimed at preserving the Bedlam rivalry, promoting environmental sustainability and voter awareness, and allocating funds at its meeting on Tuesday night.
Rep. Shrey Kathuria introduced the Save Bedlam Act, which would recommend OU and OSU university officials and athletic departments work to keep the Bedlam rivalry going after OU exits the Big 12. law passed unanimously and will be forwarded to the OU Graduate Student Congress.
"Regardless of our track record, the Bedlam rivalry has created incredible traditions and created incredible memories for everyone in the student body," Kathuria said. "These things are really what makes Oklahoma State great. It's unlike any other state and we need to preserve our traditions.
Congressional Secretary Amelia Landry introduced the Confetti Makes Me Upsetti Bill, to add confetti to the list of prohibited items in the Student Government Association's Annotated Code. She said the bill would not ban confetti from campus, but would prevent organizations from using SGA funds to purchase it.
Landry said Congress had already seen and passed a similar bill for bulk balloons and sequins, and that confetti was a natural next step because it also has "adverse effects" on the environment.
"Traditionally, confetti is made from polyvinyl chloride and other plastics, and it can take over 1,000 years for it to break down," Landry said. "Animals can be attracted to the shine from the plastic and end up eating it, which can introduce microplastics into our food and water systems. Paper confetti also contributes to this degradation.
She said she chose the general term 'confetti' so as not to cause the Ways and Means Committee, which deals with the funding of the SGA, to have more work making them define what is and isn't. is not sustainable. However, if organizations wanted to buy flowers and make confetti out of them, she said they were allowed to do so.
The bill was brought up for debate by Kathuria, who was concerned about the cost of confetti to the budget of student organizations. He said he believes there is a better way to promote SGA environmentalism than banning confetti.
He also said he was concerned about cultural groups hosting events that require items containing confetti, such as Lunar New Year confetti poppers or cascarones, a Mexican tradition of filling hollowed-out eggs with confetti or small toys.
"Asian associations, the LGBTQ Student Alliance, the Latino community…all may need confetti for their traditions," Kathuria said. "I know perfectly well that this bill does not prohibit organizations from buying confetti. However, we have an obligation to be compassionate and an obligation to help them to be able to host their cultural events.
Sustainability committee chair Rylee Houston says the bills banning balloons and loose sequins went through her committee before she joined SGA, but she knows they had no problem with it, whether internally or with organizations.
She said that given her position, she cares deeply about environmental issues and believes the precedent set by previous SGA bodies is an excellent commitment to the environment.
"I believe and understand that confetti is a big environmental pollutant because it's arguably too small to pick up, most of the time," Houston said. "We have an obligation to mitigate any impact on the environment, even if the problem may be bigger than us."
External Affairs Committee Chairman Weslie Griffin also cited precedent as the reason the bill should pass, saying there had been no issues before regarding cultural groups.
"As for any celebrations, I'm Latino and when you buy (cascarones) they're usually pre-stocked with the confetti, so you'd be buying the eggs themselves, which wouldn't be negated by this project. of law," Griffin said. "Plus, confetti is extremely inexpensive, and I think if an organization really needed it, they could get it."
In her closing statement, Landry said she understands banning the purchase of confetti with SGA funds would most likely have limited impact, but she still thinks it's an important step.
"Environmental issues are so difficult to tackle because it's a collective action issue," Landry said. "There's a reason we've struggled so far in politics to find a solution and that's because it's multifaceted and you have to attack it from many angles – up, down, up, down. If everyone is using confetti with the idea that their one small action doesn't make a difference, overall, that becomes a problem.
The bill passed with a vote of 21-2-0 and is moving to the Graduate Student Senate for further deliberation.
Landry introduced a routine expulsion bill that kicks in after a sitting member of Congress has an excessive number of unexcused absences, which the Annotated Code defines as more than four absences. The bill was passed unanimously. Evicted partner Hadi Fawad preceded Landry in the role of secretary.
Associate Caleb Robinson had his first bill, the Informed Voter Act of 2022, which would discourage direct ticket voting, seen and passed by Congress.
Robinson said direct voting, which allows voters to select a political party's full slate of candidates for each office, discourages candidate scouting and increases partisan polarization. The bill will also be reviewed by the Graduate Student Senate at their next meeting.
"Voting is daunting because there are a lot of names on that ballot and you probably don't know who half of them are, except maybe the governor and your senator," Robinson said. . "I would like to provide some information to these voters so that they are not lured into the straight party voting option and are better informed through research before they go to vote."
Ways and Means Committee Chair Demetri Papahronis introduced the fourth auxiliary bill of the session, which allocated SGA funding to 20 student organizations on campus. It passed unanimously and will be forwarded to the Graduate Student Senate for further consideration.